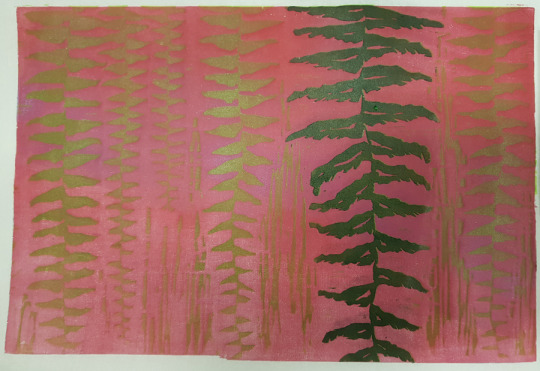 It is finished!
I decided to use just light green in first print and then in second reprint covering just the biggest fern in sap green mixed with my lighter mix. The light green did not pop much out of the different backgrounds, but in the red background it seems almost metallic shiny.
In total I made three prints with the prepared red, yellow and light blue backgrounds and printing was done in two steps using one block.
WIP (making of images prior to printing the block, work in progress and materials and tools):
WIP (the glorious printing day, oil based etching ink prepared, rolled to the block and pressed):
I think I will reuse the block at home using water based materials, in the japanese woodblock printing method, mokuhanga (or what ever I manage to do :D). I have some goodies on the way home to start printing. That in mind I also started a new block and I will then make multiple blocks for the printing. Lets see what happens.
(I also have few water color plant pictures to post, but I think I will still slightly work on the other so it is not yet finished. I will post both at the same time so need to wait a bit. Have to take proper picture of them also, considering scanning also to get quality images.)
(paper: Japanese paper paper
cut to pieces)
(part 1 post:  https://shoilaartstudies.tumblr.com/post/187904899845/printmaking-woodblock-printing-fern-part-1-of )